It's a few years, now, since I used to go to the then Wickes British Open at the Assembly Rooms in Derby, to watch the snooker. I got Willie Thorne's autograph and everything. Your uncles went to the Crucible the other day to watch this year's world championship, the final of which has just finished.
Well done to Ronnie O'Sullivan - and how lovely it was to see, and hear about, his little lad, and what fatherhood means to him, as Ronnie Jnr stayed with him for the presentation and interviews.
You can guess some of the things that crossed my mind as the confetti fell in the arena. At great moments of achievement in our lives, there are people we want to share it all with.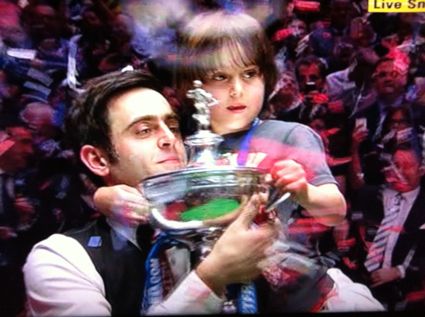 Especially in the case of such a naturally gifted guy who has had to face his demons, it was lovely to see the Two Ronnies on our screens tonight.
Not far from where they live, we are working to give other Dads the chance to do just the same, for and with their children...
Love from Daddy