Every time I set off from our house in London to go to the A40, which is most Sunday mornings these days, I glance right as I pass the postal sorting office, with its long run of iron railings around the corner of Moat Farm Road.
It's funny, because the house next door I remember very little of - but I particularly remember the railings leading up to the house where my Nana and Grandad lived - and where your paternal Great-Grandad died, just before I was born.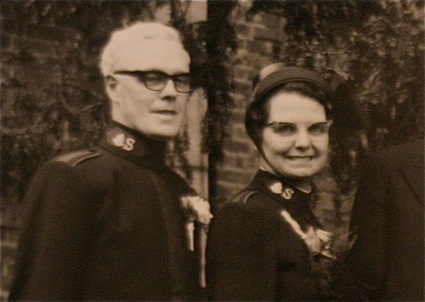 If he were alive today, we would have been celebrating his 100th birthday - or perhaps his 25th - or perhaps, if you believe official records, neither?
It was on this day a hundred years ago, so the man himself told us, that Richard and Martha, of Poplar Place, in the small mining village of Coedpoeth, welcomed their son into the world. Reference to their marriage certificate, from Mount Zion Primitive Methodist Chapel in Wrexham ('in the County of Denbighshire' as it was in 1893), tells us that they named their little boy after their own fathers, one a platelayer (presumably for the Great Western) and the other, who had already gone to his reward at the time of their marriage, a collier, whose name we gave to your teddy bear.
So, depending on which source you believe, your Great-Grandad was born either today, yesterday, or tomorrow - in the days before iPhones, it seems that the people keeping the records, told of a little boy born 'last Thursday', forgot it was a leap year!
In fact, it is also recorded as the 27th as well, on his baptism record, but given all the other conflicting sources, by the time he was baptised, at Capel Salem, (just over the road from the cemetery where his parents are now buried) on 17 April, I reckon everyone had lost count and settled for 29 February.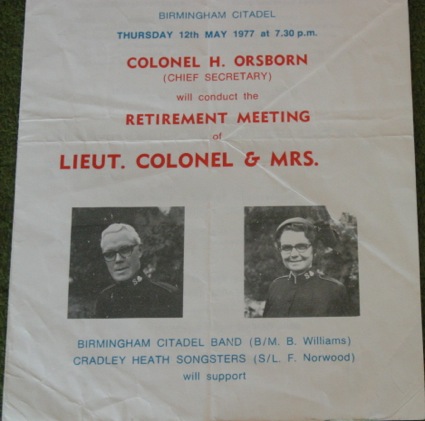 It's funny how I seem to end up following him. When we went to the Army in North Wales, we were a few miles from his birthplace - indeed one lady proudly told me she remembered him going into training, on 12 August 1934, into the 'Awakeners' session. How fortunate he was to get one of the truly memorable sessional songs, from the pen of Eric Ball. I shall have it on in the car later!
Now, after quite enough of life's twists and turns, I end up living five minutes from where he left us, just short of his seventieth birthday; and in the light of the circumstances which brought me here, I think more than I ever did before, I understand now why Big Grandad thinks his Dad's health took a sudden downward turn.
There is one other thing I remember from Moat Farm Road. My tractor and trailer. We bought it on the way to visit Nana, in the time before she too was suddenly taken ill, though not from us. It must have been a reasonably rugged piece of kit, because Big Grandad's building work saw to it that we were very busy shifting actual building materials once we got it home!
Little did I realise it that first day with my tractor, but I was losing part of my family.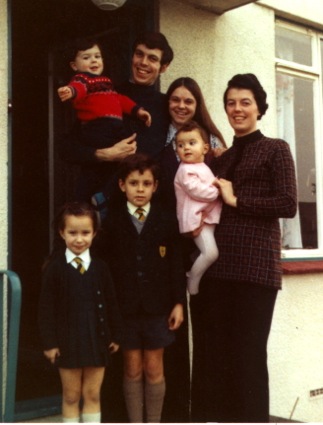 Grandma and Big Grandad, with his sister,
and my four cousins.
There are stories, son, even close to home, which are not mine to tell. Perhaps other members of the family will take the time, whilst they still are with us, to leave their stories for you and your generation.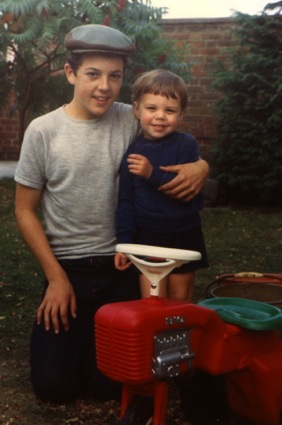 For my part, what I will say is I don't remember anything of my cousins from the first ten years of my life. I have no recollection of the taking of these pictures, and I whilst I knew my Aunty when I was a boy, I scarcely remember seeing her children in the years before she died, too young, after a long battle with Multiple Sclerosis. It's something I am still deeply saddened by.
That was the first time in centuries that family breakdown touched Great-Grandad's immediate family line. Thirty or so years on, it's happened more than once again, and in a bitter twist of irony, one of his seven grandchildren inhabits the same corner of Middlesex he and Nana did, missing children in the same corner of Devon as they did.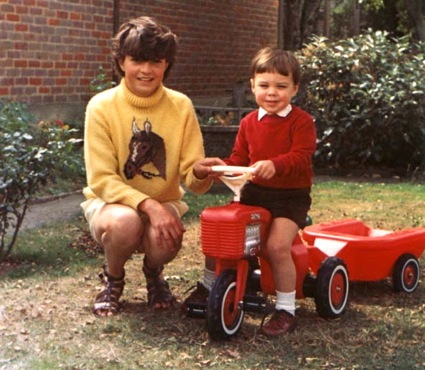 Indeed, it's part of what scares me now about the extent to which, if Mummy and Little Grandad get what they want, you will remember me, and the rest of our family, if you don't see us again for many years. I must be about the same age, in those pictures, as you are now. Grandma's father, the one Great-Grandparent on my side who lived to meet you, is already resigned to the likelihood that you will never see him again - and never remember him at all.
Tomorrow, St David's Day, I want to write about the legacy of the Welsh Grandfather I never met.
But a hundred years on from a baby's cry in a mining village in North Wales, I just think about those railings in Northolt, and the years that have passed - and wonder what he would've made of it all.
Love from Daddy