I wonder how many songsters have sung that song over the years. It will be thousands.
Whilst it may be said that we are all called to be 'Awakeners' - it strikes me how much more special and personal it must have been for my Grandfather and his sessional colleagues to sing 'their song'.
"WE
are
'The Awakeners'!"
- it must have been an intrinsic part of the identity of the cadets of that session, for whom it was written; particularly since it subsequently remained popular.
It must have been an exciting time to have been in training. Catapulted from being the young bandmaster at a small corps in North Wales, to the then almost brand new training college at Denmark Hill, my Grandad sang a sessional song written by no less than Eric Ball, would have been in London at the time of General Higgins retiring and the second high council electing a woman, General Evangeline Booth, and was commissioned in the same summer as the first Silver Jubilee celebrations to be held for a British monarch. Lots of similarities to the last year or two!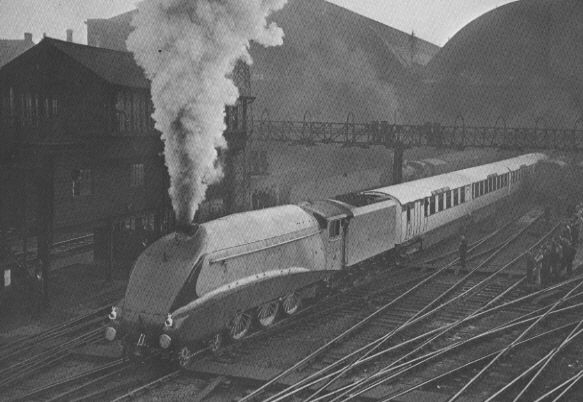 Mind you, If I'd been him in 1935, I'd have wanted to go over to King's Cross and see for myself Sir Nigel Gresley's mythical new streamlined locomotives...
"Go"
said the manager at the coal mine, where Grandad had laboured since he was a boy.
"There's nothing for you here".
Returning to his village these days shows the prescience of that remark. A month or so after he left, there was a disaster at the pit, affecting over eighty families and killing one of the soldiers of the corps. When the pit shut, things never really picked up again, and a few more distant relatives who still live there are amongst those trapped in unemployment on the council estate looking out over the hill their forebears toiled to hollow out.
My Grandad was, then, a classic example of the church, particularly the nonconformist traditions, inducing 'social lift'.
His
maternal grandparents, Charles and Sarah, were married in a Calvinist Methodist ceremony in 1862, in that same village. In contrast to Charles' job as a 'Collier', Both their respective fathers, George and Edward, appear on the marriage certificate as 'Labourers'. Most tellingly, though, of the four signatures on the certificate, three - the bride and both the witnesses, made only a cross on the paper, annotated by the registrar as "
The mark of...
".
They were illiterate.
I am a strange person to be making biographical report of my Grandad, since I never met him. He knew I was expected, but didn't live to see my birth. I wouldn't recognise his voice if I heard it.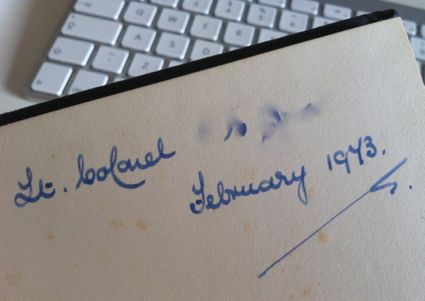 But I recognise his words - written in the covers (and margins!) of the books of his which I inherited.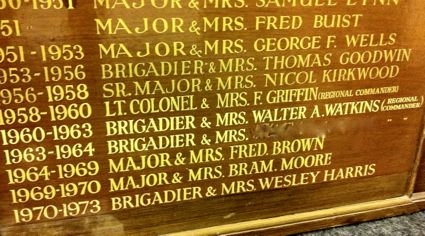 I recognise where he has been; on the roll of former Commanding Officers, every time I walk in the back door of the Army hall.
And I recognise his influence, when so often people say "Oh! you're
his
grandson! I remember him from..."; usually followed by a remark about how smartly turned out he and his wife were renowned for being - at which I instantly feel a little dishevelled! It is often told how they used to brush down each others' tunics before heading out onto the platform for a meeting. I often think it feels unfair that so many people who I know, knew my Grandad - but not me. That could yet be true of relatives of yours that
were
around in your lifetime.
I do know much of my Grandad's legacy to us though, because
he
was a man who 'made his mark' - on the lives of very many people - and it was he, one might argue, that turned his family line from unskilled, illiterate labourers into preachers and teachers.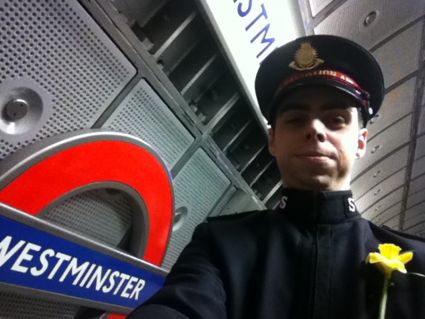 Today, far from North Wales, on St David's day, the day when he would have celebrated
75% of his birthdays
his grandson was to be found, in his trademark high collar, speaking of his Welsh roots at the Palace of Westminster, and 'giving it the amps' as we sang '
Tydi a roddaist
'.
In many ways I am the antithesis of my Grandad. I willingly try to speak Welsh(!), I possess the 'talents' of being messy, loud and thoroughly disorganised, and whereas Denmark Hill said 'yes' to a 22 year old coal miner in 1934, they gave a hard time to a 22 year old railwayman of the same name seventy years later, and have lost him, at least for now.
But what Step Mum and I, with our helpers and friends, have embarked upon this week is no lesser calling to make a mark on society than was his. Indeed, when so much of the prevailing culture runs contrary to what we know is right, I reckon that makes me something of an '
Awakener
', too. Don't you?
Love from Daddy